Carian Trail - Bozburun
This self-guided trek takes in the Bozburun Peninsula, one of the 5 sections of the Carian trail. With 850 km, the Carian trail is the longest of Turkey's long-distance trekking routes. Located in the south western part of Turkey it runs through the provinces of Muğla and Aydın, passing by numerous monuments from the Carian civilization that thrived in this region during Antiquity. The region has its own unique architecture and many ancient villages, untouched coves, hills full of olive and almond trees, and ancient cities, some of which are only accessible on foot. Leaving busy tourist centres such as Marmaris behind, you hike from the blues of the sea to the greens of the hills, starting on forested slopes above Kumlübük and slowly making your way to the more barren hillsides of the southern part of the peninsula. You pass sleepy coastal towns and traditional mountain villages, on the way enjoying the ever changing, amazing views.

Book Now
---
For tours without fixed departure dates you can email us at: info@middleearthtravel.com or you can contact us using the "Contact Us" page. We will provide you with a tailormade itinerary and quotation.
Prices
Please contact us for details on the itinerary and costs.
Dates
You can start this tour any day. Best travel times are early spring and autumn.
Included
all transfers (also from/to airport Dalaman) and luggage transfers during the trek
all accommodation
meals: 6x breakfast / 5x lunch (4x picnic and 1x in village house) / 2x dinner
detailed self-guided route notes in English
Excluded
flights
4x dinner
soft and alcoholic drinks during meals
entrance fees to historical sites and museums
tips and gratuities
Equipment
Trekkers should have good quality hard soled trekking boots, fleece jacket, swim wear, sunhat, sunglasses and sun cream and a 30-40 litre day sack. Rain gear in early sprng and late autumn. Walking sticks are recommended.
Transfer
The transfers from and to airport Dalaman are included. You pack, we take care of the rest! We transfer your luggage between the accommodations while you enjoy your walk. Our aim is to make your holiday more enjoyable. During the walks, you carry your daysack only.
Meals
During the tour, you will enjoy natural, regional and rich Turkish food. Breakfasts are served in the accommodations. Lunches will be picnics, prepared by the accommodation owners. Dinner is included in Kumlübük. In the other places you can choose from a variety of local restaurants.
If you want to ask us something about this tour, please tap here.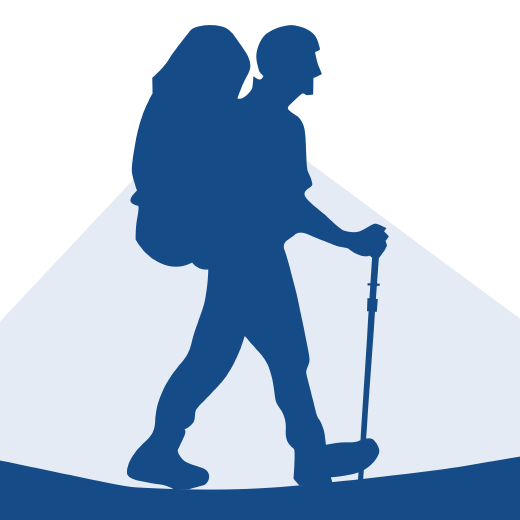 Middle Earth Travel
---
You question has been sent successfully.
We will reply as soon as possible.
Thank you very much!
---
Day 1: Arrival
Upon arrival at Dalaman airport you will be met by your driver for the transfer to Kumlubük. The hotel is located on a private sandy beach that offers perfect opportunities for a swim. Dinner and overnight at Boutique Hotel in Kumlubük.
Day 2: Turgut - Amos (6km)
After a short transfer you hike from Turgut up the forested slopes parallel to a streambed. The path winds its way uphill passing a green pasture with age-old olive trees. After reaching the pass a rocky descent takes you to the ruins of ancient Amos, perched on a high cliff overlooking the bay of Kumlübük. From there it is a short beach stroll to the hotel. Dinner and overnight at same hotel in Kumlubük.
Day 3: Kumlubük - Kızılcaöğretmen - Bayır (13 km)
The hike starts directly from your hotel. After admiring the last views towards Amos Bay, you follow a path through the forest. It passes by a ruined monastery hidden amidst the olive trees. With a gradual ascent, the route carries on with wonderful views towards the coast. After reaching the hamlet of Kızılcaöğretmen you hike another 4 km's into Bayır village, known for its two monumental plane trees shading the village square. From here you have a transfer to Söğüt (30mins). Overnight at comfortable guesthouse with pool in Söğüt (Cumhuriyet neighbourhood).
Day 4: Bahçeli - Taşlıca - Söğüt (10 km)
After breakfast you have a short transfer to Bahçeli, a tiny hamlet in a green valley. You follow a stony path ascending towards the coast with fantastic views to the greek island of Rhodes. It continues parallel to the dramatic coastline before heading inland to the village of Taşlıca, where donkeys and cows roam around freely. After enjoying lunch in a friendly village house you take a panoramic path down to Cumhuriyet, enjoying stunning views across the wide bay dotted with tiny islands. Overnight at same guesthouse in Söğüt.
Day 5: Söğüt (Cumhuriyet) - Bozburun (12 km)
Your walk starts directly from the accommodation and descends to the beach. Along the coastline the Carian trail takes you past secluded coves, ancient ruins and ship yards where the famous wooden gullets of Bozburun are built. The walk ends in Bozburun, a bustling harbour town where sailing yachts anchor. You will stay at a family-run pension with seaviews right on the seafront where freshly baked bread is served for breakfast.
Day 6: Bozburun - Selimiye (9 km)
Walking out of Bozburun the route passes by small cove called Germe and ascends through the agricultural hinterlands of Bozburun to a high point where you find nice views back to Bozburun bay. Passing the saddle, the route continues onto a mixture of dirt roads and paths to descend to Selimiye with views of the lake-like bay and the surrounding mountains. Selimiye is a small coastal town that harbours an Ottoman Period Castle that you can visit in the afternoon. Overnight at comfortable seaside hotel with first-class restaurant in Selimiye.
Day 7: Turgut - Hydas - Turgut (6 km) & departure
A short transfer takes you close to Turgut where you climb the forested slopes to visit a well-preserved ancient tomb. It was built in an unusual piramid shape and considered to be a holy place for many centuries after its construction. You start your hike to ancient Hydas along an ascending forest path. From the ruined city walls wonderful views extending far out across the bay will be your reward. Walking down on a forest road you meet your transfer vehicle that takes you to Dalaman airport (2hrs). If time allows, a last swim and lunch at the seaside resort of Turgut can be enjoyed beforehand. An evening flight from Dalaman is necessary to complete the program.
Tailor made options
If your arrival is early, the Turgut-Amos walk can be done on day 1. The trek can be made even shorter and more intense by combining the walks of days 5 and 6 and skipping the overnight in Bozburun town, thus shortening the program to 5 days.
OTHER TOURS YOU MIGHT LIKE