St. Paul Trail
This self-guided trek starts on the shores of lake Eğirdir and follows the eastern branch of the Saint Paul trail, the long distance walk between Antioch in Pisidia (Yalvaç) deep in the Taurus mountains and Perge near the coast. The trek allows you to immerse yourself in the way of life of the inhabitants of the old stone and timber villages along the route; you will often stay in village houses, see the local handcrafts, watch cheese and yoghurt making and enjoy the tasty village foods. The trip includes a visit to the major Roman city of Selge as well as many opportunities to look at bulbs and birds during the walks. Our trail follows beautiful sections of Roman roads and migration routes in use since Roman times (and perhaps even walked by st Paul himself!) in this spectacular area of forests, canyons, rivers and peaks.

Book Now
---
For tours without fixed departure dates you can email us at: info@middleearthtravel.com or you can contact us using the "Contact Us" page. We will provide you with a tailormade itinerary and quotation.
Prices
€895 per person. Price based on double/twin room occupancy. Single room supplement €190.
Dates
You can start this tour any day.
Included
all transfers (also from/to Antalya) and luggage transfers
7 nights accommodation
all meals: breakfast / lunch (picnic) / dinner)
detailed self-guided routenotes in English
Excluded
flights
soft and alcoholic drinks during meals
optional rafting excursion (to be paid locally)
entrance fees to historical sites and museums
tips and gratuities
Equipment
Customers should have good quality hard soled trekking boots, rain gear, swimwear, sunhat and sunblock, and a 30-40 litre daysack. Walking sticks are recommended.
Transfer
You pack, we take care of the rest! We transfer your luggage between the accommodations while you enjoy your walk. Our aim is to make your holiday more enjoyable. During the walks, you carry your daysack only.
Meals
During the tour, you will enjoy natural, regional and rich Turkish food. Evening meals consist of a soup or salads, a main course and fruit or sweet for dessert. Lunches will be picnics or meals in local restuarants. Our packed lunches are wonderful and we include plentiful trail snacks such as dried fruits and nuts.
If you want to ask us something about this tour, please tap here.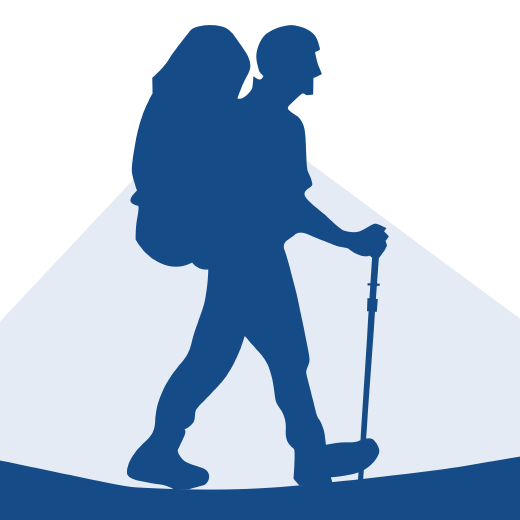 Middle Earth Travel
---
You question has been sent successfully.
We will reply as soon as possible.
Thank you very much!
---
Day 1: Arrival Antalya - transfer to Eğirdir
After your flight arrival we will transfer you to Eğirdir (2hrs). If time allows we stop for a visit of ancient Sagalassos on the way. Dinner and overnight in pension in Eğirdir.
Day 2: Sivri peak (8,5km / 4hrs / +515m / -515m)
After an uphill transfer to Akpınar village (20 mins) you walk to the Prostanna ruins and continue to the top of Sivri Hill (1800m). Here you enjoy amazing views across lake Eğirdir and the town as well as the surrounding mountains. You return along the same route and enjoy a break in Akpınar at a cafe with a lovely bird's eye view across the lake. Transfer back to Eğirdir. Dinner and overnight in pension in Eğirdir.
Day 3: Sipahiler - Serpil (14,5km / 5hrs / +400m / -700m)
Transfer to Sipahiler (40mins) and walk on the St Paul trail to Serpil. Today's walk goes over a pass in the forest then across spectacular limestone ridges and through indigenous oak forest, passing shepherds huts and grazing lands with the possibility to observe cattle and wild horses. The route descends to the small village of Serpil surrounded by orchards where you meet the transfer vehicle and drive back to Eğirdir (20 mins). Dinner and overnight in same pension in Eğirdir.
Day 4: Saray Yolu Fountain - Adada - Sağrak (14km / 5hrs / +150m / -655m)
Transfer from Eğirdir to Saray Yolu Fountain (45mins). You walk through a rural landscape with tiny hamlets, wild horses and age old trees to the ancient city of Adada where 3 major temples are still standing alongside the smallest ancient theatre in Anatolia. You walk down along a well-preserved section of ancient Roman road where St. Paul may have walked himself to Sağrak village where you meet with the car for a transfer to Kasımlar (35mins). Dinner and overnight in pension in Kasımlar.
Day 5: Tota Pasture - Kasımlar (18km / 6hrs / +330m / -830m)
Transfer to the Tota pasture (20 mins). The walk takes you back to Kasımlar along a ridge top and the ruins of a Byzantine church and settlement. The descent is through the forest, which has an abundance of miniature wild tulips and other bulbs. From your high position you can enjoy spectacular views. Dinner and overnight in the same pension in Kasımlar.
Day 6: Fındık – Kesme (14km / 6hrs / +710m / -390m)
Transfer from Kasımlar to start of the walk in Fındık neighbourhood (10 mins). The spectacular route starts at a bridge across the river and will take you over the rim of the canyon on old paved paths, down through mysterious rock formations passing rural huts, ancient ruins while meeting many goats along the way. You meet with the car in Kesme and transfer to Çaltepe (1hr). Dinner and overnight at pension in Çaltepe.
Day 7: Kestanelik - Selge (10,5km / 3hrs / +490m / -350m)
You have a 20 mins. transfer to the start of the walk. Today's walk is not that long so a leisurely start is possible. You follow an age old route, at times beautifully paved, through a dreamy landscape of dark forest and imaginative rock formations. Reaching Selge ancient city you will have time to explore the ruins of many houses, a huge theatre and public buildings spread over several hillsides of this once huge city. Afternoon transfer to the pension on the banks of the Köprülü river (25 mins) for dinner and overnight.
Day 8: Köprülü canyon & departure
You can enjoy an optional swimming or rafting excursion on the river (pay locally). Depending on your flight you meet with the car for your transfer to Antalya (1hr 45mins).
OTHER TOURS YOU MIGHT LIKE