On Top of Cappadocia
It is one of the favorite as it provided many great views and interesting learning opportunities for the churches carved within the caves. There is only one way to have whole view of Cappadocia, either fly with balloon or do for trekking up in Bozdag. (1300 m)

Book Now
---
For tours without fixed departure dates you can email us at: info@middleearthtravel.com or you can contact us using the "Contact Us" page. We will provide you with a tailormade itinerary and quotation.
Tags
Prices
€200 per person for 1 pax. €120 per person for 2 pax. €100 per person for 3 pax. €90 per person for 4 pax and more.
Equipment
Trekkers need: *good walking boots *small day-sack *warm clothing (for winter, early spring and autumn period *sunglasses, sunhat, sun cream, lip salve *rain gear (preferably breathable such as Goretex ™ for winter; early spring and autumn period) *waterproof jacket (Goretex or similar) and trousers (if appropriate) *walking T-shirt/shirts, walking socks, fleece or jumper *water bottle (1 litre) This list is not exhaustive and every walker is different and may have their own preference.
Transfer
we will pick you up from your hotel and transfer you to the hotel at the end of the tour.
Meals
Lunch in Red Valley, which is the place in the region which offers local food into the nature. We love our cooking in Turkey. During the tour, you will enjoy natural, regional and rich turkish food accompanied by freshly pressed fruit juices, turkish wine, beer or even raki- the famous aniseed spirit. Meal consist of a soup, salads, a main courses and local sweet for dessert.
If you want to ask us something about this tour, please tap here.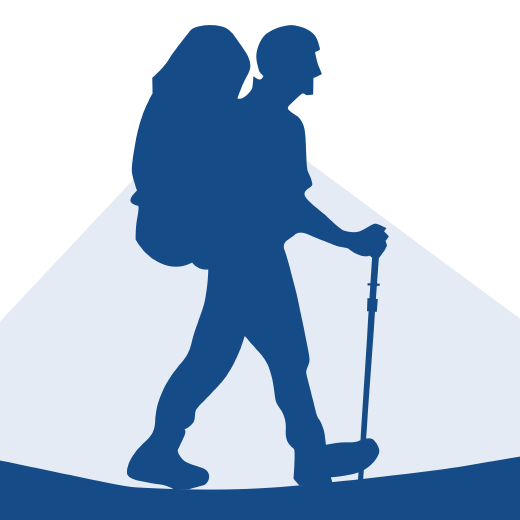 Middle Earth Travel
---
You question has been sent successfully.
We will reply as soon as possible.
Thank you very much!
---
On Top of Cappadocia
This tour is an opportunity to break away from the classical trekking routes in the area; it's for people who like panoramic views. After picking you up from your hotel at 09:15 and stopping by our office -famous for its coffee- we start the tour and depart for Cavusin Village. After a short wander in the village, we ascend through the deserted houses to reach the little-known church of John the Baptist, with its unique paintings. Our path continues to the summit of Bozdag mountain where a panoramic view of the region awaits, including Uchisar, Goreme, Cavusin, Avanos, Ortahisar, and Zelve Open-air museum. With the spectacular views of Mount Erciyes, we follow a smooth path over the plateau and descend for lunch in a small family-run restaurant in Red valley. We visit the winery and the Grape church and start our afternoon walk in Rose Valley. We visit the pigeon houses and the Cross Church en route to the end of our walk in Goreme.
OTHER TOURS YOU MIGHT LIKE