Trekking in Cappadocia
The fairy chimneys and secret valleys of Cappadocia offer the opportunity for some of the most fascinating day walks to be enjoyed anywhere in the world. The famous troglodyte villages and the amazing scenery are best enjoyed on foot. In this one week tour, walking possibilities are endless in this area of cave lived valleys and surreal rock formations. The walking is of moderate difficulty and is generally between 4 and 5 hours each day. There is also time to visit some of the attractive villages on route.

Book Now
---
For tours without fixed departure dates you can email us at: info@middleearthtravel.com or you can contact us using the "Contact Us" page. We will provide you with a tailormade itinerary and quotation.
Prices
€960 per person for a group size of min. 6 and max. 14 pax. For groups under 6 people, please contact for pricing information.
Dates
Dates can be arranged on your request.
Included
all transfers (also from/to airport) and luggage transfers with private vehicle including driver and fuel
all accommodation
all meals: breakfast / lunch (picnic) / dinner
qualified English speaking guide
Excluded
flights
soft and alcoholic drinks during meals
entrance fees to historical sites and museums
tips and gratuities
Equipment
Trekkers need good walking shoes, small day-sack, warm clothing (for winter, early spring and autumn), sunglasses, sunhat, sun cream, lip balme, rain gear (preferably breathable such as Goretex ™ -for winter, early spring and autumn), waterproof jacket (Goretex or similar) and trousers (if appropriate), walking T-shirt/shirts, walking socks, fleece or jumper, water bottle (1 litre). This list is not exhaustive and every walker is different and may have their own preference.
Transfer
We will pick you up from your hotel/airport and transfer you to the hotel/airport at the end of the tour. Our aim is to make your holiday more enjoyable. We transfer your main luggage between accommodations by car. During the walks, you walk with your day-sack only.
Accommodation
Accommodation: 6 nights pension/hotel located in Göreme and Cavusin. If you're planning a trip to Cappadocia, you don't have to settle for an ordinary hotel. Instead, you can have an amazing stay in one of the cave hotels of Cappadocia. These hotels are carved out of the landscape, letting you experience the true culture and beauty of the region. All rooms have a private bathroom, central heating and hair dryer. Breakfast and dinner are served on the terrace with a great view of the surrounding fairy chimneys.
Meals
We want to show you different regional flavors every day. For this reason, we go to a different restaurant for each meal. We love our cooking in Turkey. We believe it is one of the tastiest and healthiest cuisines of the world. During the tour, you will enjoy natural, regional and rich Turkish food accompanied by freshly pressed fruit juices, Turkish wine, beer or even raki- the famous aniseed spirit. (Meals consist of a soup or salads, a main course and fruit or sweet for dessert.)
If you want to ask us something about this tour, please tap here.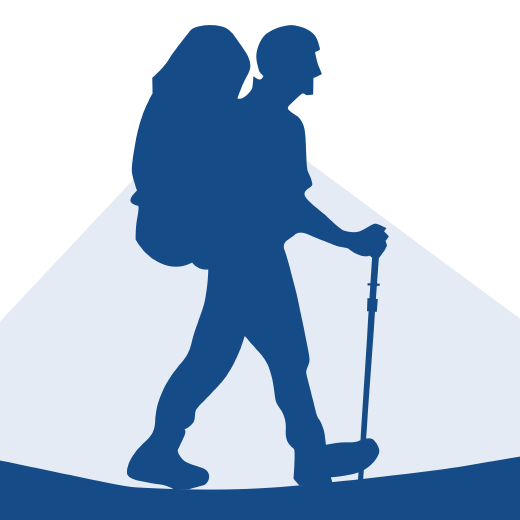 Middle Earth Travel
---
You question has been sent successfully.
We will reply as soon as possible.
Thank you very much!
---
Day 1: Transfer
You will be picked up up at the airport and transferred to Göreme. Dinner and overnight in Göreme.
Day 2: Pigeon Valley - Uçhisar - White Valley - Love Valley
Trekking in Pigeon valley to Uçhisar: 4 km / 2,5 hours. Lunch in Uçhisar. Trekking in White valley from Uçhisar to Göreme: 5 km / 2 hours (+ /- 120m). This moderate walk will show you the hidden valleys of the area with their vineyards and orchards of walnut, quince and apricot trees. Our walk starts at 9.00hrs. We start walking through the Pigeon valley. It is a great walk from Göreme along the valley floor to Uçhisar (4km). The valley is named for the many pigeon houses or dovecotes carved into the rocks and cliffs. Years ago the pigeons were used as message carriers as well as food and their droppings were used as fertilizer. Afterwards the path takes us to Uçhisar where we visit the castle to enjoy spectacular views, and have time to wander in the town before lunch. Lunch is in a local family-run restaurant in Uçhisar. The view of the valley is exquisite. They serve local Turkish food in traditional clay pots. You will taste several different delicious and famous Turkish dishes. After lunch, we head for White valley characterized by its small fields, lush vegetation and strange rock formations. On the spot where you find the particularly beautiful fairy chimneys (Love Valley) you can enjoy a taste of the freshly pressed orange juice. After the break, our gentle path leads us back to Göreme. Overnight in Göreme.
Day 3 : Kavak Village - Bahçeli Village - Ayvalı Village – Gomeda Valley
Trekking from Kavak via Bahçeli to Ayvalı: 7 km / 3 hours (+/- 100 m). Lunch in Ayvalı: http://www.aravan.com/tr/100/restaurant.html Trekking from Ayvalı Village to Mustafapaşa Town: 5 km / 2 hours. Transfer from Mustafapaşa to Göreme: 30 min / 15 km. This trip introduces you to the traditional villages of Cappadocia. Our morning transfer takes us to rural Kavak; a farming town where tourists do not normally tread. We walk from here to Bahçeli where we have a cup of tea at the local tea house. From here, we walk an undulating route to Ayvalı, and stop for lunch in Aravan for an authentic, casual, delicious meal with friendly service. This is the only place in the region which offers organic food. After lunch we walk through Gomeda valley. Overnight in Göreme.
Day 4: Gomeda Valley - Pancarlık Valley - Ortahisar Town - Red Valley - Çavuşin
Transfer Göreme to Gömeda Valley: 18 min / 19 km. Trekking from Gömeda to Ortahisar: 7 km / 2 hours (+/- 60 m) Lunch in Ortahisar. Transfer from Ortahisar to Kızılçukur: 5 min / 3 km. Trekking in Red valley: 6,5 km / 2,5 hours. After breakfast we take a transfer to Gomeda valley where we finished our walk the day before. Our morning walk through the Pancarlik valley takes us to Ortahisar, a quiet town with a Byzantine/Seljuck fortress. After a short wander in the town we drive to Kızılçukur (Red valley) where we walk in the afternoon. We finish our walk at Çavuşin. Overnight in the pension in Çavuşin.
Day 5: Çavuşin - Bozdağ Table Mountain – Rose Valley
Trekking from Çavuşin via Rose Valley to Kızılçukur: 7km / 3 hours. Lunch in the valley. Trekking via Kızılçukur to Göreme: 4,5km / 2,5 hours (+ 180m / - 90m). After breakfast we start walking. This tour is an opportunity to break away from the classical trekking routes in the area; it's for people who like heights. After a short wander in the village, we ascend through the deserted houses to reach the little known church of John the Baptist, with its unique paintings. Our path continues to the summit of Bozdağ Mountain where a panoramic view of the region awaits, including Uçhisar, Göreme, Çavuşin, Avanos, Ortahisar and Zelve open air museum. With the spectacular views of Mount Erciyes in the back ground, we follow a smooth path over the plateau and descend for lunch in a small family run restaurant in Red valley. We visit the winery and the Grape church and start our afternoon walk in Rose Valley. On the way visiting the pigeon houses and the Cross Church. Overnight in Çavuşin.
Day 6: Derinkuyu Underground City - Ihlara Valley - Selime Monastery
Transfer to Ihlara Valley: 1,5 hours / 83 km. Trekking in Ihlara Valley: 13 km / 5,5 hours (+ 70m / - 90m). Lunch in the valley. Transfer to Göreme: 1,5 hours / 83 km. Today we visit the only ever green place in the whole of Cappadocia, Ihlara valley. But first we drive to Derinkuyu Underground City, one of the wonders of Cappadocia. The settlement was dug as deep as 5 layers below ground level and used for hiding for centuries. After seeing the underground city we drive to Ihlara town and start our walk in the valley. This 13 km hike is generally an easy walk, following the river at the bottom of the deep canyon, there are some short parts where we have to scramble on rocks. Willow and poplar trees will decorate our way with beautiful birds gliding by. We walk about 3,5 hours and en route visit several rock-cut churches carved out of the vertical canyon walls. Some are covered in really unique wall paintings. One great discovery was to find a rock-cut mosque next to one of the churches, both cut out of the rocks. It is the first example of a rock-cut mosque ever found. After a late lunch we continue walking by the river down to Selime town, where the walk ends nearby Selime Monastery, another amazing structure cut out of the natural rock.
Day 7: Paşabağ - Avanos - Transfer to airport
We enjoy a light day today. We start from the hotel and walk to one of the wonders of Cappadocia: Paşabağ. It is a short walk (1,5hrs) but for those who do not want to walk it is possible to transfer by minibus to Paşabağ and rejoin the group there. We drive to Avanos, the second biggest town of Cappadocia, where the longest river of Turkey passes through. This Kızılırmak (Red River) was known in Antiquity by its' ancient name 'Halys'. After enjoying lunch in Avanos we will learn that this town is famous for its' pottery art as well. Making pottery from the rich clay deposits of the river is in fact a cultural heritage that Cappadocia inherited from the Hittites. We have a free afternoon. In the afternoon we have an optional visit to a Turkish bath for relaxing and massage. At the end of the day, we transfer to the airport.
OTHER TOURS YOU MIGHT LIKE