Lycian Way: Antalya - Kaş
This 14 day guided trek follows a large section of Turkey's first ever long-distance footpath – the Lycian Way. The famous route snakes its way above the Mediterranean's most dramatic coastline of 'the Land of Light' Lycia, to the limestone peaks of Mount Olympos, soaring high above the glittering sea. It descends through shady wooded valleys along a 4-km beach past the ruins of the Lycian city of Olympos to the spectacular isolated lighthouse on the ridge of Cape Gelidonya. The trek continues on coastal paths around the sheltered harbour and tiny islands of Simena and Kekova lagoon, famous for the underwater ruins of the Sunken City that can be visited by boat. We end the tour at the charming coastal town of Kaş with a day full of activities at sea.

Book Now
---
For tours without fixed departure dates you can email us at: info@middleearthtravel.com or you can contact us using the "Contact Us" page. We will provide you with a tailormade itinerary and quotation.
Prices
€1430 per person for 12 pax or more. €1495 per person for 10-11 pax. €1630 per person for 8-9 pax. Above prices are based on double/twin room occupancy. €380 single room supplement. For groups smaller that 6 please contact us for information.
Dates
2024: 12 May - 25 May Joining the tour for a shorter period is possible as well. Contact us for the best options.
Included
all transfers (also from/to airport Antalya) and luggage transfers with private vehicle including driver and fuel
all accommodation
meals: breakfast / lunch (picnic) / dinner except 1x dinner in Kaş
qualified English speaking guide
Excluded
flights
soft and alcoholic drinks during meals
entrance fees to historical sites and museums
tips and gratuities
Equipment
Trekkers should have good quality hard soled trekking boots, rain gear, swimwear, sunhat and sunblock, and a 30-40 litre daysack. Walking sticks are recommended.
Transfer
You pack, we take care of the rest! We transfer your luggage between the accommodations while you enjoy your walk. Our aim is to make your holiday more enjoyable. During the walks, you carry your day sack only.
Meals
During the tour, you will enjoy natural, regional and rich Turkish food. Evening meals consist of a soup or salads, a main course and fruit or sweet for dessert. Lunches will be picnics or meals in local restaurants. Our packed lunches are wonderful and we include plentiful trail snacks such as dried fruits and nuts.
If you want to ask us something about this tour, please tap here.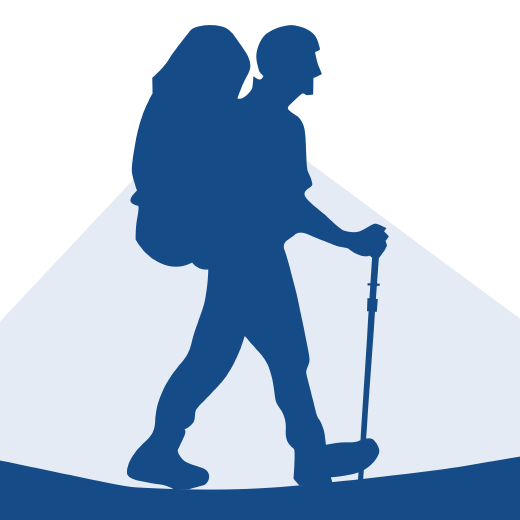 Middle Earth Travel
---
You question has been sent successfully.
We will reply as soon as possible.
Thank you very much!
---
Day 1: Arrival
Meeting with your guide and driver at Antalya airport. Transfer to Kaleiçi, the historical city centre of Antalya (30 mins) where you are surrounded by old mansions, hamams and mosques. Welcome dinner in local restaurant. Overnight in hotel in Kaleiçi, Antalya.
Day 2: Hisarçandır - Göynük (16km / 6hrs / +260m / -1525m)
After a transfer from Antalya (1hr 15mins) our walk starts through the Hisarçandır traverse with beautiful forest of pine and cedar trees. Antalya and the Tauros mountains are visible in the distance. The walk leads down to the bottom of the Göynük canyon from where we have a short transfer to our pension. Dinner and overnight in pension in Göynük.
Day 3: Göynük - Göynük Yayla (17km / 6hrs / +1200m / -510m)
We take a short transfer from our pension to the entrance of the Göynük canyon and walk up the gorge over switchback ridges beneath pine trees, with excellent views to pastures and orchards. It is possible to swim where the river forms a nice pool near our lunch spot. We meet our vehicle near a bridge (alt. 850m) from where we transfer to Ovacık. Dinner and overnight in hotel in Ovacık.
Day 4: Göynük Yayla - Yayla Kuzdere (16km / 5hrs/ +460m / -525m)
We transfer back to where we left the walk the previous day. On the trek to Gedelme we will explore a Roman castle and continue our walk up to the village of Yayla Kuzdere (alt. 900m) for our overnight. Dinner and overnight in village house in Yayla Kuzdere (shared bathroom facilities).
Day 5: Yayla Kuzdere - Beycik (15km / 6hrs / +990m / -1130m)
From Yayla Kuzdere we start with a steady climb up a stream bed to the pastures of Çukur Yayla, just below Mount Olympos (Tahtalı Dağı). We climb the pass from here (alt. 1950m) through forest of pines and impressive cedar trees. We descend via a winding mule path to the village of Beycik (alt. 900m) where we meet our transfer vehicle that takes us to our pension in Çıralı. Dinner and overnight in pension in Çıralı. NOTE: Day 5 can be changed into an optional ascent of Mount Olympos summit (alt. 2366m). In that case we don't descend to Beycik but climb from Yayla Kuzdere to the pass and from there to the top (total 6-7 hours and appr. 1400m uphill). From the summit we take the cable car to the lower station and transfer to Çıralı (cable car ticket excluded from tour price).
Day 6: Ancient Olympos & Chimaera (Yanartaş)
After breakfast we make an optional exploration of the ruins of ancient Olympos (total appr. 6km along the beach). This ancient city, which gets its name from its view of Mount Olympos, was built on the banks of a wide river flowing into the sea near Çıralı adjoining a long, sandy beach. It once was a hide out for pirates and amongst its ruins are tombs, temples, churches and palaces all hidden between lush vegetation. After lunch there is free time until dinner. You can swim and lie on the beach or do other activities as desired (eg. sea kayak). After dinner we make a short night walk to admire the eternal burning flames of Chimaera (natural gas coming from the bowels of the earth in the location called Yanartaş) in the dark. Dinner and overnight in pension in Çıralı.
Day 7: Çıralı - Adrasan (16km / 6hrs / +750m / -750m)
We start directly from our pension in Çıralı and walk through the ancient city of Olympos and up Musa Dağı (Moses Mountain, alt. 650m). The climb is through dense forest with many strawberry trees and passes some minor ancient ruins. After having a picnic lunch near an old hut we descend through forest, past deserted farmhouses to reach our accommodation in the beautiful bay of Adrasan. Dinner and overnight in hotel in Adrasan.
Day 8: Adrasan - Gelidonia Lighthouse (18km / 7hrs / +700m / -700m)
The walk starts directly out of our hotel and leads south via Kızıl Sırt (alt. 450m) along a remote and isolated coast line. We follow a path parallel to the coast at a high altitude along cliffs and green slopes, overlooking the sea and enjoying great views towards some little islands. After arriving at the lighthouse at the tip of Cape Gelidonia (alt. 200m) we walk down to a dirt road to meet our transfer vehicle for the transfer to Beymelek. Dinner and overnight in guesthouse in Beymelek.
Day 9: Kapaklı - Simena (9km / 3,5hrs / +150m / -100m)
We drive to Kapaklı where we rejoin the Lycian Way. Along sheltered coves and rocky inlets we reach Simena (also known as Kale). We enter the village near the crusader castle, built on the remains of a necropolis with sarcophagi and rock-cut tombs and with outstanding views across to Kekova. Our pension is situated right on the shore with lovely views across the bay. Dinner and overnight in pension in Simena.
Day 10: Kılıçlı (Apollonia) - Aperlai (7km / 3hrs / +50m / -400m) & cruise
We transfer by boat and car to the village of Kılıçlı and climb the acropolis of the ancient Lycian city of Apollonia. The descent is along old mule paths to the seaside ruins of ancient Aperlai, a Lycian harbour town, from where purple dye extracted from sea shells was exported to the centres of the Roman world. After a short coastal walk we are collected by boat and enjoy a cruise over the Sunken City before returning to Simena. A swim in the crystal clear waters will be accompanied by a barbecue lunch as we sail past the ruins of houses and harbour works. Dinner and overnight in same pension in Simena.
Day 11: Boğazcık - Okçuöldüğü (12km /4,5hrs /+560m / -200m)
We transfer to the village of Boğazcık from where we walk past Ottoman cisterns and Roman watch towers to the beach. After a swimming break we continue along the rocky coast to the hamlet of Okçuöldüğü from where we have a transfer to Kaş (30 mins). Dinner in local restaurant and overnight in hotel in Kaş.
Day 12: Okcuöldüğü - Limanağzı/Kaş (8,5km / 3hrs / +220m / -380m)
We transfer back to Okçuöldüğü from where we enjoy a short walk on coastal paths with many opportunities for a swim. We have lunch at a restaurant in Limanağzı where the walk ends. After some free time we take a ferry boat to cross over to the harbour town of Kaş. Dinner not included. Overnight in same hotel in Kaş.
Day 13: Free day in Kaş
Free day in Kaş with ample opportunities for swimming, diving, canoeing or just some souvenir shopping and relaxing. Farewell dinner in local restaurant and overnight in hotel in Kaş.
Day 14: Departure
Transfer from Kaş to Antalya airport (3,5 hrs).
OTHER TOURS YOU MIGHT LIKE