Hasan Mountain & Ihlara Valley
Mount Hasan (3268m.) ranks as the second highest mountain of central Anatolia. This tour starts with a long but easy walk in the Ihlara Valley. On the way it is possible to visit one of the famous underground cities. Ihlara Valley -13 km hike- is one of the most popular day treks. The walls in the valley are carved with churches and some have really unique wallpaintings inside. The ascent of Mount Hasan takes place on the second day.

Book Now
---
For tours without fixed departure dates you can email us at: info@middleearthtravel.com or you can contact us using the "Contact Us" page. We will provide you with a tailormade itinerary and quotation.

Difficulty Level
---
Grade 4: Demanding. Mountainous treks for experienced trekkers who can keep up a steady pace for 8 hours or more and tackle some easy scrambling. Daily altitude differences can be more than 900m. Hiking on rocky or faint foot paths and over scree. The use of crampons may be needed at times.
Tags
Prices
€370 per person for 2 pax. €270 per person for 3 pax. €190 per person for 4 and more pax.
Included
all meals
English-speaking mountain guides
round-trip transportation (between the trek and your accommodation)
camping materials (tents & mattress)
Excluded
flights
travel insurance
soft/alcoholic drinks
tips and personal expenses
sleeping bag (you can hire from us)
most of the equipment can be rented locally from us
Equipment
*Good walking shoes *Small day-sack (approximately 40lt) *Warm clothing (for winter, early spring and autumn) *Sunglasses, sunhat, sun cream, lip salve *Rain gear (preferably breathable such as Goretex ™) *Waterproof jacket (Goretex or similar) *Trousers (if appropriate) *Walking T-shirt/shirts *Walking socks, fleece or jumper *Torch and batteries *Water bottle (1 litre) *This list is not exhaustive and every walker is different and may have their own preferences. *We may especially need to use crampons and ice axes depending on snow conditions on early spring and late autumn.
Transfer
We will pick you up from your hotel and transfer you to the hotel at the end of the tour. Our aim is to make your holiday more enjoyable. During the walks, you walk with your daysack only.
Accommodation
One night camping; trekkers are expected to help pitch/strike their own tents. All tents are good quality dome tents with two doors. Optional: If you like to stay in a pension please inform us.
Meals
On the first day we have a late lunch at a restaurant along the river in Ihlara Valley at around 13:30. We love our cooking in Turkey. We believe it is one of the tastiest and healthiest cuisines of the world. The second day lunch will be a picnic and trekkers are expected to carry part of the food, but we don't skimp on this: our packed lunches are wonderful and we include plentiful trail snacks such as dried fruits and nuts along the way. Dinner: evening meals in camp will be hot soup or salads, a main course with pasta or rice and fruit. If you have special dietary requirements (gluten free, peanut allergy, etc.) please inform us when filling out the booking form.
If you want to ask us something about this tour, please tap here.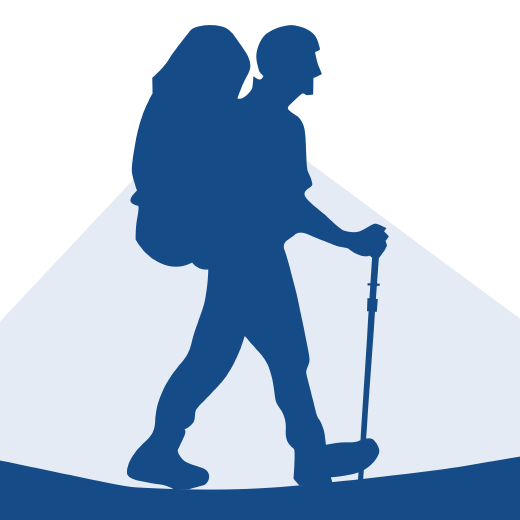 Middle Earth Travel
---
You question has been sent successfully.
We will reply as soon as possible.
Thank you very much!
---
Day 1: Ihlara Valley, optional visit: Derinkuyu Underground City
This 13 km hike is one of the most popular amongst our treks. It is generally an easy walk, following the river, there are some short parts where we have to scramble on rocks. Starting from your hotel, our bus takes us to Ihlara town centre (1,15 hours). The Valley is unique because of its history and civilization. The whole valley has rock-cut underground dwellings and churches from the Byzantine Period. We walk about 3,5 hours and en route visit several rock-cut churches. After a late lunch we continue walking by the river down to Selime town. The second part of the valley offers you peacefulness. On the way to the Selime monastery, we visit a unique rock-cut mosque. It does not stand out from outside, but the inside of the mosque is impressive. The walk ends nearby Selime Monastery. We drive to Helvadere and camp near the abandoned ski hotel (altitude around 2000 m). If you like we can make an optional stop before reaching Ihlara valley at Derinkuyu underground city.
Day 2: Hasan Summit - Ruins of The Highest Church on the Peak
We wake up early for breakfast and start our ascent over rough ground around sunrise. We hope to reach the summit before noon (3268 m). In good weather, views of the Aladağlar and Bolkar mountains, Tuz Gölü -Salt lake- (the 2nd biggest lake in Turkey) are breathtaking. We will explore the ruins of the highest church in Turkey. Return to camp and drive for a late lunch at Helvadere trout restaurant. On the way back to Göreme, we stop for a quick swim in Nar lake.
OTHER TOURS YOU MIGHT LIKE