Seven Capes Trek
This exciting guided trek follows the prettiest parts of Turkey's first ever long-distance footpath - the Lycian Way. The region south of Fethiye is known as the Seven Capes, a stunning coastline where steep promontories drop abruptly into the sea. The route meanders over bare hillsides and through scented pine forests overlooking the blue Mediterranean. We start in Kayaköy close to the famous white sands of Ölüdeniz lagoon and follow well-preserved foot paths to Faralya, Alınca and Yediburun enjoying the vast sea views from their elevated locations. In between, the route dips down to wonderful hidden beaches such as Kabak where sparkling waves lap smooth sands, idyllic places for a swim. The trek ends at the impressive ruins of Patara, one of the principal cities of ancient Lycia and located near one of the finest beaches of Turkey.

Book Now
---
For tours without fixed departure dates you can email us at: info@middleearthtravel.com or you can contact us using the "Contact Us" page. We will provide you with a tailormade itinerary and quotation.
Prices
€910 per person. Price based on double/twin room occupancy. Minimum group size 8. €150 surcharge per person for group size below 8. €190 single room supplement.
Dates
2024: 14 April - 20 April 12 May - 18 May
Included
all transfers (also from/to airport Dalaman) and luggage transfers with private vehicle including driver and fuel
all accommodation
all meals: breakfast / lunch (picnic) / dinner
qualified English speaking guide
Excluded
flights
soft and alcoholic drinks during meals
entrance fees to historical sites and museums
tips and gratuities
Equipment
Customers should have good quality hard soled trekking boots, rain gear, swimwear, sunhat and sunblock, and a 30-40 litre daysack. Walking sticks are recommended.
Transfer
You pack, we take care of the rest! We transfer your luggage between the accommodations while you enjoy your walk. Our aim is to make your holiday more enjoyable. During the walks, you carry your daysack only.
Accommodation
The first nights we stay near Kayaköy – an abandoned Greek village, beautifully portrayed in the 2004 novel Birds Without Wings by Louis de Bernières. The delicious home cooked meals of our host at the small eco-guesthouse are served in the grapevine covered courtyard near the swimming pool. In Faralya we stay in free-standing wooden cabins set in a lovely garden with fruit trees and pool. From the restaurant terrace stunning views to the sea and Butterfly Valley below can be enjoyed. The village houses in Alınca and Gey offer basic but clean lodging and very tasty traditional Turkish meals. Many guests find these nights the most memorable of their trip! In Alınca the house is situated at the edge of a cliff, overlooking the sea and the stunning sunsets. In Gey we stay right in the heart of the village, surrounded by an impressive landscape of stone built terraces. In Patara we are guests to a very welcoming family in their pension with garden. Dinner is with lots of home grown fruits, vegetables and herbs and the Turkish breakfast can be enjoyed on the terrace overlooking the pool.
Meals
During the tour, you will enjoy natural, regional and rich Turkish food. Evening meals consist of a soup or salads, a main course and fruit or sweet for dessert. Lunches will be picnics. Our packed lunches are wonderful and we include plentiful trail snacks such as dried fruits and nuts.
If you want to ask us something about this tour, please tap here.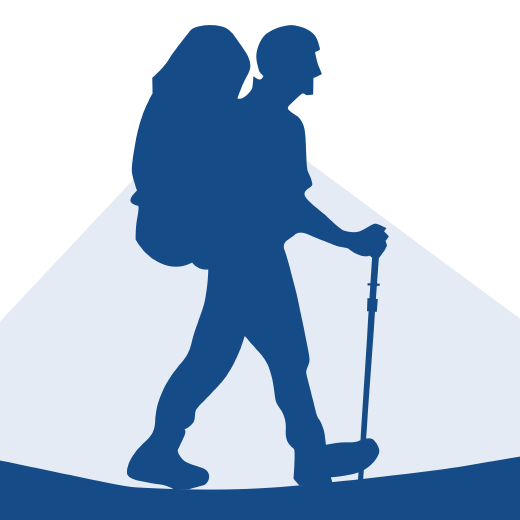 Middle Earth Travel
---
You question has been sent successfully.
We will reply as soon as possible.
Thank you very much!
---
Day 1: Arrival & optional walk
On arrival at Dalaman airport you will be met by your driver and tour guide for the transfer (1,5hr) to Kayaköy. Depending on the arrival time, we can make an optional walk around town. Dinner and overnight at guesthouse in Kayaköy.
Day 2: Kayaköy-Ölüdeniz (9km / 3hrs / +200m / -350m)
The walk takes you right through the ruined village of Kayaköy. Once a thriving Greek village, Kayaköy was completely deserted in 1923 when the orthodox Christian inhabitants had to move to Greece following the Turkish War of Independence. Climbing out of the village the path crosses a green headland to arrive at the famous white beaches of Ölüdeniz. We enjoy a swimming break before heading back to Kayaköy. Dinner and overnight at guesthouse in Kayaköy.
Day 3: Ovacık - Faralya (14km / 5-6hrs / +660m / -680m)
Transfer to the start of the Lycian Way where we start our hike with spectacular views towards the sea and Ölüdeniz lagoon. We ascend the lower slopes of Baba Dağı (Father Mountain) following a paved mule path. After passing the villages of Kozağaç and Kirme we descend to the small village of Faralya on the green slopes above the Butterfly valley. Dinner and overnight in pension in Faralya.
Day 4: Faralya - Alınca (13km / 5-6hrs / +750m / -450m)
Walk along a forested path passing high above the secluded cove of Kabak. We will climb up a beautiful old mule trail to the small hamlet of Alınca, with impressive views over Yedi Burun (Seven Capes). Dinner and overnight in village house in Alınca.
Day 5: Alınca - Sidyma (11km / 4hrs / +490m / -660m)
We walk along the spectacular Seven Capes coastline towards a pasture with an Ottoman cistern. There we have the choice to descend along a cobble stone trail to the secluded beach of Kalabantia, explore the ruins of the ancient harbour and swim in the crystal clear waters (additional 5km / 2,5hrs / +400m / - 400m). After returning to the main trail we follow and old mule trail inland and uphill to reach ancient Sidyma where we explore the ruins of this once huge city scattered around an inland valley and two hills. The village houses are constructed using ancient building blocks; inscriptions, tombs and city walls are visible. Transfer to Gey (30 mins). Dinner and overnight in pension in Gey.
Day 6: Gey - Gavurağili (14km / 6-7hrs / +500m / -1000m)
We trek along a tiny goat path around the spectacular bay of Gemili to Bel. After a short section of dirt road we start our descent along the last of the Seven Capes following a steep, rocky Roman road down to Gavurağili. We meet our transfer vehicle here and drive to Patara. Patara is famous for its very long beach where the giant sea turtles, caretta caretta come for laying eggs. It was also the birthplace of st Nicholas, who became known as bishop of nearby (Myra) Demre. Dinner and overnight in pension in Patara.
Day 7: Delikkemer - Patara (11km / 3hrs / +225m / -340m) & Departure
After a short transfer we visit the remains of a Roman aqueduct spanning a ravine at Delikkemer. It was part of a system that supplied water from the mountains to ancient Patara on the coast. We walk back from the aquaduct to Patara partly following the course of the ancient waterpipes. After exploring the ruins of this once leading city of the Lycian League, with a theatre, bath complexes and temples, we can relax on the beach. The trek ends with a transfer to Dalaman airport (2hrs).
OTHER TOURS YOU MIGHT LIKE